Panchami (Black Pepper)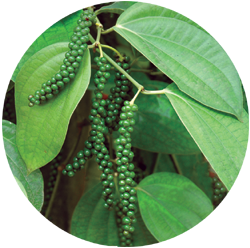 Pedigree
Selection from Aimpiriyan (Coll.856)
Areas of Adoption
All pepper growing tracts of Kerala and Karnataka
Yield
2828 kg dry pepper/ha
Potential yield
6528 kg dry pepper/ha
Quality Attribute
Morphological Characters
Leaf length/breadth (cm)
14.5/8.5
Spike composition
No. of fruits per spike
84
1000 fruit volume (cc)
108
1000 fruit weight (g)
107
Yield per vine
5.2 kg green pepper
Special characteristics
A high yielding variety with excellent fruit set. Spike twisted in appearance due to high fruit set. Oleoresin content is high.
Specific recommendations
Use only clonal planting material. Strict plant protection measures recommended. May not be suitable for drought prone areas. The package of practices recommended by IISR are to be followed.