IISR organizes Entrepreneurship Programme in Spices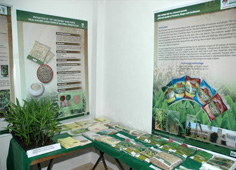 Kozhikode: A Business Planning and Development unit can offer a lot to enterprising entrepreneurs to convert their new business ideas to reality," said Dr. P Sreekantan Thampi, Deputy Director (Publicity), Spices Board, Cochin. "Spice sector offers a lot of business opportunities in areas like organic or pesticide free production, production of quality, disease free and high yielding planting materials, mixed farming etc," he added.

He was talking at a one day Entrepreneurship Development Programme organized by the Institute Technology Management - Business Planning and Development (ITM-BPD) Units of Indian Institute of Spices Research (IISR) here on Friday. IISR director Dr. M Anandaraj presided. "The BPD unit at IISR is an attempt to incubate new and innovative ideas of farmers and entrepreneurs in to viable and profitable business," he said.

Dr. P Rajeev, IISR Senior Scientist, briefed about Institute's various technologies that are ready for commercialisation and Dr. TE Sheeja, Member Secretary, ITM-BPD Unit, IISR spoke about the incubation facilities available at the Unit for entrepreneurs to start-up, evolve and develop profitable business ventures, once it is ready.

Dr. C Thamban, Principal Scientist, CPCRI; Mr. M Ajith Kumar, Chief Manager, Agri Business, Federal Bank, Kozhikode and Mr. KP Padmakumar, District Development Manager, NABARD Malappuram also spoke. Dr. T John Zachariah welcomed the gathering and Dr. Santhosh J Eapen proposed the vote of thanks.

More than hundred people including spice researchers, entrepreneurs, progressive farmers, representatives of farmers' clubs, self help groups and developmental agencies participated in the programme.